Who has the largest mistletoe? The Mission Inn Hotel & Spa in California thinks it does.
They even claim that the 12-foot-long by eight-foot-wide mistletoe (pictured right) hanging from their entrance is recognised in the Guinness of Records as the world's largest.
And they should know something about large there – apparently the hotel occupies an entire city block. And they've had that giant mistletoe for 2 years now.
But lots of other places have claimed to have giant and largest mistletoe in recent years. I've covered a few in this blog over the years – including the giant steel mistletoe at RHS Harlow Carr Gardens in 2008 and the giant mistletoe that hung at Heathrow Terminal 5 in 2009 (pic on left). There's a video of that one at the bottom of this blog entry.
Plus there was the giant mistletoe that Virgin Mobile were using in 2010 in Canada – pictured below right:
And that's just a few. Some of them may even be the same giant mistletoe, just doing the rounds of big corporate marketing departments.
But there's something wrong with all these giant mistletoes – and you've probably guessed it already. The clue is in the wording given by the Mission Inn Hotel – who say it is "the world's largest man-made mistletoe".
They are all, of course, complete fakes
You can't have a 'man-made mistletoe' – you can only have a man-made model of some mistletoe…. They're not actual mistletoe! Of course not – they're just bits of plastic and metal dreamt up by marketing teams. They're not really about botanical traditions – but everything to do with (rather naff) commerce.
Does this matter? Well yes, it does, or should do. Kissing under mistletoe is a custom celebrating the peculiarity and properties of the plant – and so kissing under a bolted together collection of green and white painted hardware is insulting that tradition, and the plant.
Maybe there is a real largest mistletoe out there somewhere?
Many mistletoe species do grow quite large – our own Viscum album species can reach several feet across, maybe a metre or two total for large plants. But it, like most other mistletoes, is usually limited by strength or health of the host branch, with that branch eventually falling or failing. Often it doesn't get to that stage, as the mistletoe itself is fragile with chunks of growth breaking off in high winds, which perhaps provides a sort of fail-safe mechanism for both mistletoe and host branch.
So could a real mistletoe get very large if it wasn't growing on a branch? Maybe.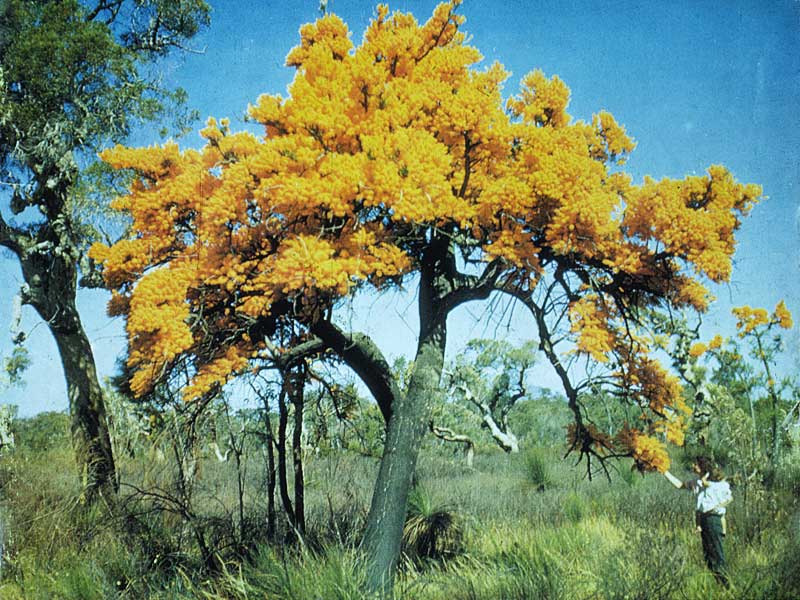 And are there any that don't grow on branches? Yes! A few mistletoes develop from the host root system – so they actually look as they grow out of the ground, like a conventional plant.
Do these grow large? Well, they are known as the Tree Mistletoes. so, yes, fairly large. 
The best-known one, an Australian species, is called Nuytsia floribunda, but its common name is, wait for it…  the Western Australian Christmas Tree (yes, really, because it flowers at Christmas!)
So, my nomination for the largest mistletoe, and the one with the best name for Christmas, is Nuytsia floribunda,  It is so big you don't even have to hang it up – just walk under it.
And I reckon it puts all those promotional giant plastic and metal monstrosities in the shade.
They're just pendants (and I'm just a pedant).
.
Here's that video of the Heathrow 'Mistletoe'
.
Commercial break:
Try The English Mistletoe Shop for Grow-Kits, Grow-Kit Gift Cards, Books etc, and mistletoe of course.
Or go direct to Amazon to buy A little Book About Mistletoe – in paperback or Kindle formats